On the latest episode of Mama JuneBug: From Hot to Not (
hey, I never said this blog would discuss how to choose upstanding television programming
), Mama June is trying to lose weight but takes her kids to an ice cream shop. MAKES NO SENSE!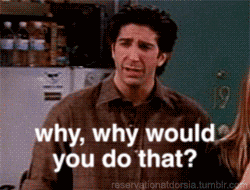 Now I'm sure it was just a staged scene anyway (WE Tv clearly thinks its viewers are all idiots), but it typically is a good rule of thumb to avoid temptation when you're trying to resist it. At the beginning of the year, this was my hard-and-fast rule. Avoid shopping websites, avoid fashion blogs, avoid malls, avoid stores, avoid Instagram, etc. You can't fail if you can't fail!
But several times this month I've ended up in a department store or at the mall for some good reason or another. My initial thought was "RUN!," followed by "Ooo that's a cute dress!," followed by "This ain't no thang." Being in my former natural environment and coming out without spending a dime was actually empowering! I can see things I want to buy, and I can make the decision not to.
I joked to my mom as we walked through Dillard's, "this is my immersion therapy." Maybe "exposure therapy" is a better term, but either way, it strengthened my resolve. So if you're on this journey with me - maybe you should give it a try as well. (Not after happy hour though, of course.) Hit the mall, your favorite boutique, or window shop online and resist the urge! Let me know how you do, and how you feel after you succeed!